The Art of the New Millennium
Keeping Memories Alive
Personal Creative Services brings the power of digital graphics into your home. We're in the business of creating family heirlooms.
Our digital artists can capture a lifetime in a single digital collage, turn a simple vacation snapshot into a work of art and make a routine photograph into an heirloom.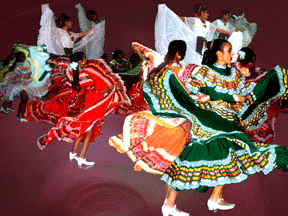 This rendering of Mexican folk dancers has a certain dreamlike quality. The girls seem to be dancing on air. But what we actually have here is a collage of three different photos. The pictures were taken in a poorly lit school gymnasium. There was nothing dreamy about them. Click on the image at left to see the original photos from which it was created. (Final image size 12" x 16")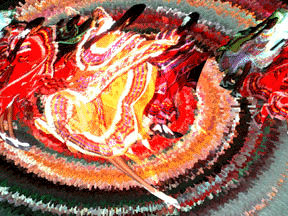 To the right is a more interpretive 'abstract' rendering of one of the same photographs used to create the collage above. Click on the image to the right to see a larger version of the limited edition art print -- with higher resolution.
These are just a couple of examples to introduce you to the magic of digital enhancement and art. There's a lot more to see in our On Line Galleries.
Just choose a gallery below and click
Portraits / Collages/ Enhancements / Limited Edition Art
All our gallery pages are graphics intensive so be patient -- they WILL take time to load